ClassEditor Release Notes
Changes in version 2.21
Prepared for editable code.
Protected local variable table from invalid information in obfuscated class files.
Changes in version 2.20
Corrected search behavior where all searches after a failed search were also failing till the table selection was changed.
Editable exception handler table of code attribute.
Editable method exception list.
Changes in version 2.15
Fixed ArrayBoundsException during method edit.
Editable line number table attribute and local variables table attribute.
Changes in version 2.10
Support for InnerClasses, Synthetic and Deprecated attributes.
Reorganized packages and enhanced attribute dialog in preparation for editable attributes.
Enhanced access flag editor.
Changes in version 2.00
Complete rewrite of the GUI in Java Swing.
Automated and transparent constant pool manipulation which makes it easy to edit Fields and Methods
Command line parameters accepted. ClassEditor can be started from the command line with class files to open as arguments. For example: "java -jar ce.jar MyClass.class" will open MyClass.class with ClassEditor.
Changes in version 1.40
Facility to open multiple class files simultaneously.
Creating a new class from scratch is made easier by creating a valid classfile from the beginning.
Toolbar to make access to frequently used options easy.
User interface modified to support larger font sizes.
Note: ClassEditor 1.4 was built with Microsoft WFC and requires the latest Microsoft JVM.
Changes in version 1.30
Facility to add and delete methods.
Facility to search methods.
Bug fix to prevent null pointer exception on saving a class with new fields.
Attribute dialog now displays even if there are no attributes to enable addition of attributes in the future.
User interface has a more uniform look and feel.
Changes in version 1.20
Facility to add, and delete interfaces.
Facility to add, and delete constant pool entries.
Facility to add, and delete class fields.
Text search in constant pool entries and fields.
Fixed bug where ClassEditor used to give null pointer exception if an attribute name was modified. (Bug identified by Raymond Chugg)
Fixed bugs where ClassEditor used to give exception on clicking on buttons if no class is loaded yet.
Changes in version 1.10
Improved speed while reading and writing class files.
Facility to get text report of the class file and its different sections.
Facility to verify changes according to class file specification.
Determine related classes and jump to them directly.
Improved GUI.
Internal changes to facilitate future enhancements.
Help me in making this a great tool!
Do you find this tool good and plan to use it? Wouldn't you like to help me in making this even better?
Please send me any bugs you find.
If you would like to suggest a new feature, you are most welcome.
I will acknowledge your contribution in this page.

ClassEditor Screen Shots
ClassEditor Methods Screen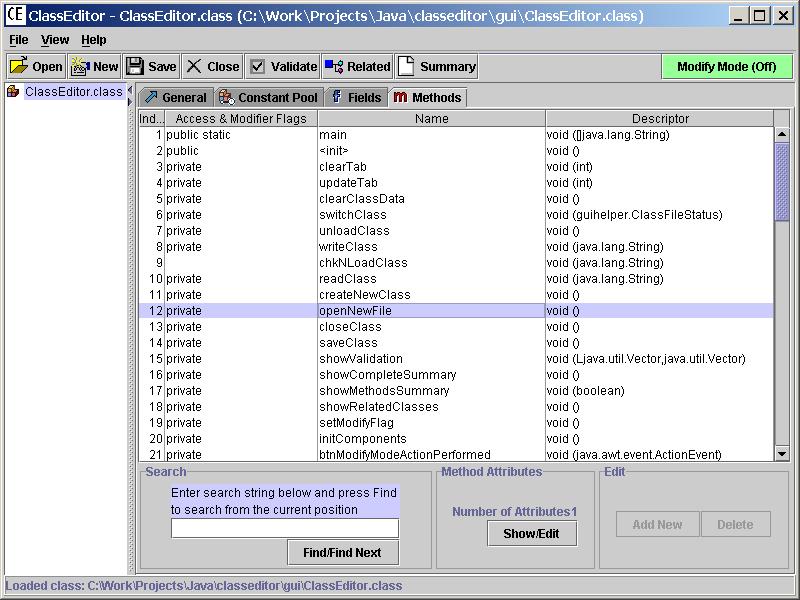 ClassEditor Constant Pool Screen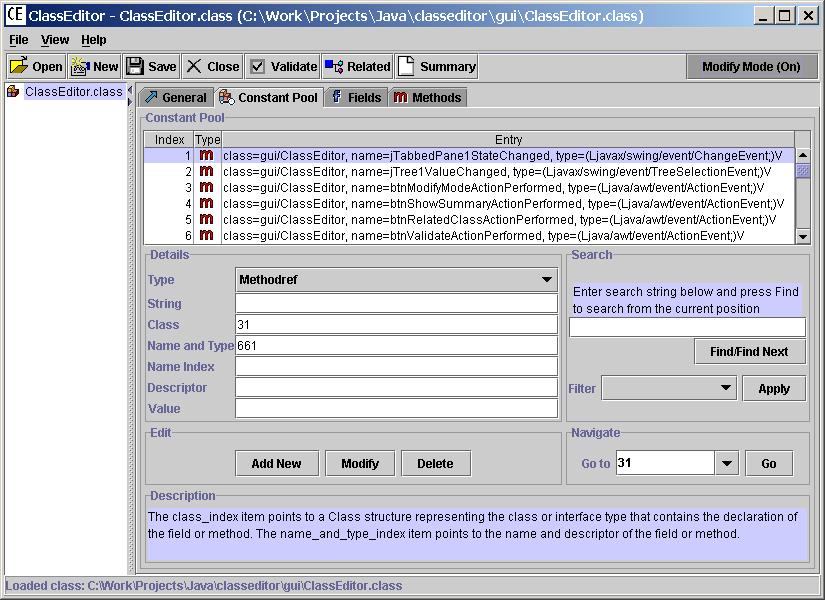 The Attributes Dialog